Creating engaging animated videos can be a powerful way to tell your brand's story, explain complex ideas, or make teaching concepts more memorable. But with so many different animation software options out there, how do you know which one is right for your needs?
In this post, we'll compare the features and use cases of six popular animated video makers—Doodly, Toonly, Vidtoon, Powtoon, Videoscribe, and Vyond—to help you decide which is the best fit.
1. Overview of the Animation Software
Doodly is best known for its hand-drawn whiteboard animation style. It provides a library of pre-made characters and scenes to choose from. Doodly is easy to use but doesn't offer much customization.
Toonly takes a cartoon approach to animation. Choose from a wide selection of animated characters that can be customized. The templates make it simple to create videos quickly.
Vidtoon lets users animate using video clips, images, icons, and more. This gives you more flexibility in animation styles. Vidtoon offers integration with other apps and an asset library.
Powtoon leans more on motion graphics and provides templates for business, education, and marketing videos. You can upload your own audio or use text-to-speech voices.
Videoscribe focuses on hand-drawn whiteboard animations. Users can animate everything from scratch or start with pre-made characters and backgrounds.
Vyond (formerly GoAnimate) uses pre-made templates for business, marketing, and training videos. Choose your characters, upload a voiceover, and let the AI animate your script.
| Features | Toonly -Standard | Enterprise | Doodly - Standard | Enterprise |
| --- | --- | --- |
| Character/Character Images | 30 | 82 | 1164 | 3959 |
| Prop Images | 1058 | 1620 | 2024 | 3341 |
| Scenes/ Scenes Template | 21 | 101 | 84 | 84 |
| Background Audio/ Music | 20 | 142 | 150 | 250 |
| Get New Characters Monthly | No | Yes | No | Yes |
1.1 Ease of Use
In terms of ease of use, Powtoon and Vyond are the most beginner-friendly. Their drag-and-drop interfaces and pre-made assets/templates make it simple to create decent videos with minimal effort. Doodly is also easy to use thanks to its templates.
Vidtoon and Videoscribe have steeper learning curves but allow for more customization and complex videos. Toonly falls in between—not as simple as Powtoon but more user-friendly than Vidtoon.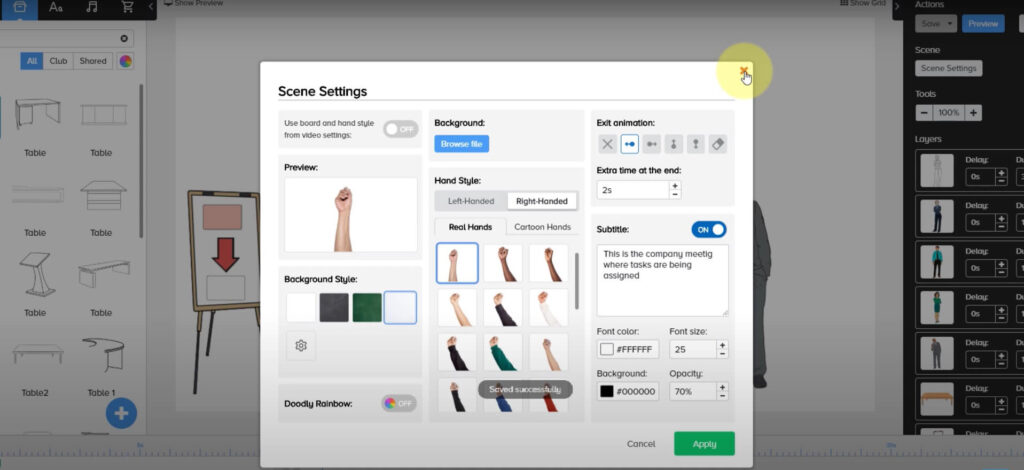 1.2 Animation Styles and Customization
When it comes to animation art styles and the ability to customize, Videoscribe and Toonly offer the most options. Videoscribe lets you create frame-by-frame hand-drawn animations however you like. Toonly has an expansive library of characters that can be modified in countless ways.
Vyond and Powtoon focus more on pre-made assets, limiting your creative freedom. Doodly also doesn't allow for much customization beyond choosing scenes and characters from its library. Vidtoon gives you more control with the ability to upload any media into your animations.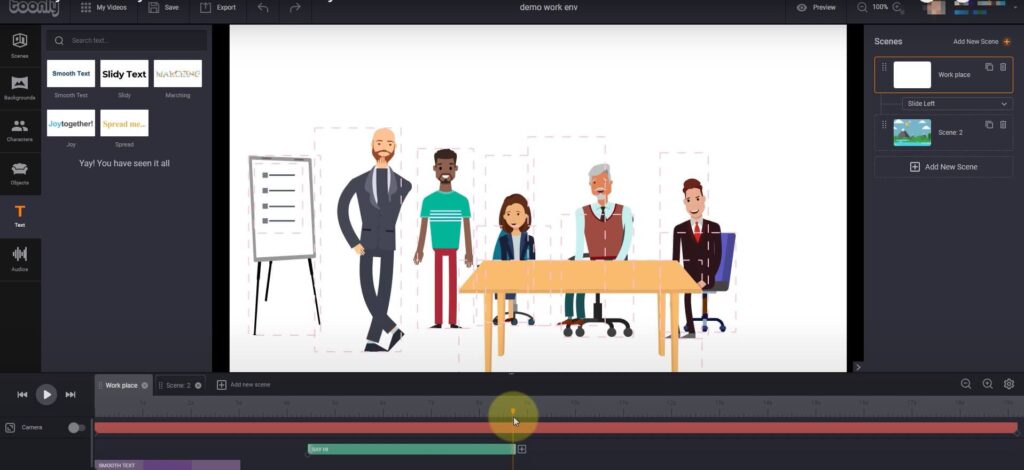 1.3 Turnaround Time
For rapidly creating videos, Vyond's text-to-animation engine and template focus allow you to make videos with impressive speed. Powtoon also helps you work efficiently thanks to its templates.
Software like Videoscribe and Doodly may require more time investment to create detailed hand-drawn animations and custom assets from scratch. But the flexibility enables you to achieve any art style you want given enough time. Vidtoon and Toonly offer a middle ground—better customization than Vyond/Powtoon but faster than frame-by-frame drawing.
1.4 Pricing and Plans
Most of the animation software compared here offers a free version with limited features, assets, and export options. To unlock the full toolsets, you'll need to upgrade to paid plans ranging from $10-$50 per month. Doodly standard plan starts at $39+ per month (Doodly Standard vs Enterprise). Toonly also has similar pricing.
A couple of exceptions: Powtoon starts at $19 per month for its Pro plan while Vyond doesn't offer a free version so even its cheapest plan is $49 per month. Vidtoon doesn't sell monthly plans—you pay per video rendered, starting at $7.
1.5 Standout Features
Each platform has its unique advantages:
Doodly: Massive content library, dedicated hand-drawn style
Toonly: Huge variety of customizable characters
Vidtoon: Upload any media, unlimited assets and styles
Powtoon: Excellent templates for business videos
Videoscribe: Frame-by-frame drawing for total creative freedom
Vyond: Quick rendering using templates and text-to-animation
2. Pros & Cons:
2.1 Toonly
Pros:
– Live-action animation
– Tons of templates to choose from
– Easy to use, intuitive UI
– 30 days money-back guarantee

Cons:
– Application start running slow if many users are using the website at the same time
For more details about Toonly coupon code and lifetime offer read this
2.2 Doodly
Pros:
– Doodly draw feature for endless resource customization
– Tons of pre-built resources
– Rich background track library
– Real-time voice recording
Cons:
– You have to pay extra money for using "Colour characters"
For more details about Doodly coupon code and lifetime offer read this
2.3 Vidtoon
Pros:
– Browser-based with a simple interface
– Good variety of assets, scenes, and characters
– Custom branding and assets can be added
– Affordable subscription plan
Cons:
– Limited animation styles and effects
– Fewer overall features than competitors
– Exports can have watermarks on free plan
2.4 Powtoon
Pros:
– Easy to use drag and drop interface
– Large library of templates, objects, and characters
– Animated videos easy to create
– Integrates with various platforms like YouTube
Cons:
– Limited customization options
– Cannot upload your own visual assets
– Watermark on free videos
– Limited exports on free plan
2.5 VideoScribe
Pros:
– Create whiteboard animated videos easily
– Large library of images, icons, and fonts
– Customizable with own visuals and audio
– HD video exports
– Branding/watermark can be removed
Cons:
– Learning curve to use full features
– Subscription cost for premium features
2.6 Vyond
Pros:
– Pre-made templates for various video styles
– Drag and drop interface with assets
– Text-to-speech voice options
– Custom branding, no watermarks
Cons:
– Limited animation and visual options
– Steep learning curve for complex videos
– Requires subscription for full access
3. Conclusion:
When choosing animation software, first consider your budget and video needs. If you want cheap and fast business-style videos, Vyond and Powtoon excel. For wildly customizable and diverse cartoons, turn to Toonly. Doodly and Videoscribe are great for hand-drawn styles. And Vidtoon's flexibility lets you animate with almost any media.
Think about animation styles and ease of use too. There's no unanimous "best" platform – each has strengths for different purposes. Try out a few options to see which animation creator resonates most with the videos you want to produce and your creative process. The power of animated video is huge, so leverage these tools to make compelling videos that capture the audience's attention.
4. Other Alternatives
Animaker
5. Video Review:
If you are a video person, you can watch this video for Toonly vs Doodly vs Vidtoon vs Powtoon vs VideoScribe vs Vyond Review here.
5. FAQ's:
What animation styles does Doodly offer?

Doodly focuses on whiteboard animation and has different hand-drawn styles such as sketchy, colorful, black and white, and more.

Can I import my own audio or assets?

Yes, you can upload your own audio, logos, images, and icons to customize your videos.

What is Doodly best used for?

Explainer videos, presentations, tutorials, and other business/education videos where whiteboard style is preferred.

Does Toonly provide voice-over or can I use my own?

You can use Toonly's text-to-speech voices or upload your own voice-over audio files.

What file formats can I export my videos in?

Toonly lets you export as MP4, AVI, MOV, and more. HD 1080p resolution is available.

What animation types are available?

Toonly offers limited animation like simple motion of characters and assets. It's not full animation.

Is there a limit on how long my Powtoon videos can be?

The free plan has a 5 minute per video limit. Paid plans allow up to 15 minutes.

Can I use Powtoon without creating an account?

You need to create an account to use Powtoon and save your projects. There is no offline version.

Does Powtoon include music I can use?

Yes, there is a music library included you can use for free. Copyrighted songs require a paid plan.

Does Videoscribe work on mobile devices?

No, Videoscribe is desktop software that doesn't have a mobile app version. You can export videos for mobile viewing.

What's the learning curve like for Videoscribe?

It has more features than most and does have a learning curve. But they offer lessons and tutorials to help learn.

Can I sell videos made with Videoscribe?

Yes, you have commercial rights to videos made with Videoscribe.

Is Vyond suitable for business videos?

Yes, Vyond can create professional-looking marketing and training videos with the right templates.

Does Vyond offer text-to-speech voice-over?

Yes, you can use Vyond's built-in text-to-speech voices.

Can I download my finished videos from Vyond?

The downloaded video files do not have any watermarks or branding.

What animation styles does Vidtoon have?

t focuses on more basic 2D cutouts and motion graphics animation. Not full whiteboard or 3D.

Does Vidtoon work as a Chrome browser extension?

Yes, Vidtoon is browser-based and works as a Chrome extension for easy access.

Can I use my own voiceover audio?

Yes, you can upload your own audio files to use in Vidtoon videos.

Are there any other alternatives for this software?