One thing that I liked about Doodly is their Pricing model. In this Doodly review, You can easily understand and choose their plans after reading the comparison of Standard vs Enterprise (Pro) version.
It offers two types of plans – Standards and Enterprise (Pro). Both are the latest versions. Doodly Enterprise plan is also called Pro/Premium/Gold Version.
The main difference between these two plans is that Standard is basically for beginners and individuals. You'll get almost every benefit in comparison to the enterprise. Enterprise (Pro) is for a small, medium, or large company. If you are or want to become a professional animator then I recommend you to go for an enterprise(pro) plan.
Doodly Standard vs Enterprise(Pro) version with Pricing Review:
There is no comparison table on the official Doodly website between Standard and Enterprise plans.
Here is a table that explains it better.
Doodly Standard vs Enterprise Comparision
| Feature | Standard | Enterprise |
| --- | --- | --- |
| Character/Character Images | 1164 | 3959 |
| Prop Images | 1620 | 3341 |
| Scenes/ Scenes Template | 84 | 84 |
| Fonts | 35 | 70 |
| Get New Characters & Images Monthly | No | Yes |
| Royalty-free audio tracks | 150 | 250 |
| Monthly Pricing | $39/month | $69/month |
| Yearly Pricing | $20/month | $40/month |
Note: If you are planning to use Doodly more frequently then annual plans are preferable and a good choice, as they are being offered at cheaper rates for a 12 month period.
If your usage is limited, monthly plans can be availed, which can be cancelled at any time. Compared to annual plans, monthly plans are more expensive.
Checkout details about Doodly one time offer here -> Doodly $67 Lifetime Offer Review
Doodly Standard vs Enterprise (In-depth Review)
Standard Version:
With the standard version, you will get some basic features of Doodly software.
In this version, you will get 1164 character images. You can use 1620 prop images for your animation. There are 84 scene templates available that you can use to illustrate the scenes.
There are 35 different types of fonts that are also available, that you can use for dialogues. You don't need to pay any royalty if you are using someone else's audio as it is providing you 150 royalty-free audio tracks.
New images and characters are not included in this version. This version gives you the liberty to create unlimited doodle videos. You can install this software on multiple PCs. It gives customer support. You can create a private Facebook community.
This plan is good choice & worth it for beginners/ Individuals.
You can purchase this version in mothly pricing and yearly pricing. It costs $39 per month if you opt for the monthly option. If you opt for yearly pricing, it costs $20 per month.
Access to 200+ doodle images and 20 scenes
20 hand styles
Ability to upload your own images and videos
Access to music and sound effects library
Ability to export videos in 720p and 1080p
Enterprise (Pro) Version:
Doodly enterprise version has some premium features.
This version provides 3959 character images. This version gives you the liberty of using more than 3341 prop images. This plan provides 84 scene templates that are the same in number in the Doodly standard version.
With this version, you can add 250 background audio and music tracks. You will get 70 different types of fonts that you can use for callouts. In this version, you can get new images and characters monthly. Royalty-free audio tracks just in double i.e 250.
Few more features same like standard version i.e creating unlimited videos, installing on multiple PCs, customer support, and last but not the least creating private Facebook community, you will get in this version also.
The plus point of enterprise plan is, you will get new doodles in every month. That's why it is worth it.
This version is also available in monthly pricing and yearly pricing. If you choose it monthly, it costs you $69 per month. If you choose yearly pricing, it costs you $40 per month.
Access to 400+ doodle images and 40 scenes
40 hand styles
Ability to export videos in 4K resolution
Priority support
Ability to create and save custom scenes
Ability to add custom watermarks and logos
Ability to create unlimited videos
Doodly Software Features Review
I know, you must be aware of all features of Doodly software, as you came here to know only the difference between Doodly standard vs enterprise (pro), but still, I want you to recall all their world-class & special features as below:
Enhanced Doodle SmartDraw Technology Create 100% realistic whiteboard, blackboard, and all new glassboard style videos!
Drag & Drop WYSIWYG Interface Design and create your videos without any design or technical skills!
Unlimited Customization Get the freedom to make a video as you want, you do not need any special skills
Effortlessly easy to use Even, you don't need to watch the tutorial about how to use it
AI Video Translation Engine
Sell to clients globally Make videos for others and make a money
Over 300+ Templates Huge collection of template helps you to make a video for any purpose (for making instructional videos, book reviews,etc)
Text-to-Speech In 70 languages Inbuilt feature of text to speed conversion, so no need to use 3rd party application
Create Unlimited Videos and get ultimate 10X youtube channel growth with Tubebuddy application
Royalty-Free image Library
Image To Sketch Converter Easily convert any image to sketch on single click
Millions Of High-Quality Doodle Images & Icons
Built-In Color Changer
Intuitive text to image finder
Full HD Rendering
Element Speed Changer
160+ male & female voices
Icon Finder and Pixabay API
Freehand Editor
Record your voice
Add Your Watermark
Built-In Doodle Style Transitions
UNLIMITED Usage — No limits
Commercial License
Save & Export videos in both SD & HD (360p-1080p)
There are several options for exporting videos
Doodly offers a variety of file types and resolutions for exporting your whiteboard animation.
You can save videos in MP4, MKV, OGG, and WebM formats. The majority of people will only need MP4, especially if you upload to YouTube.
There are resolutions ranging from 360p to full 1080p. For videos that are slightly different, such as those on social media, you can also enter your own resolution without an aspect ratio.
With Doodly, you can choose from 24, 25, 30, 48, 50 and 60 frames per second (FPS). These days, some people like to make their animations really smooth by going all out at 60 frames per second.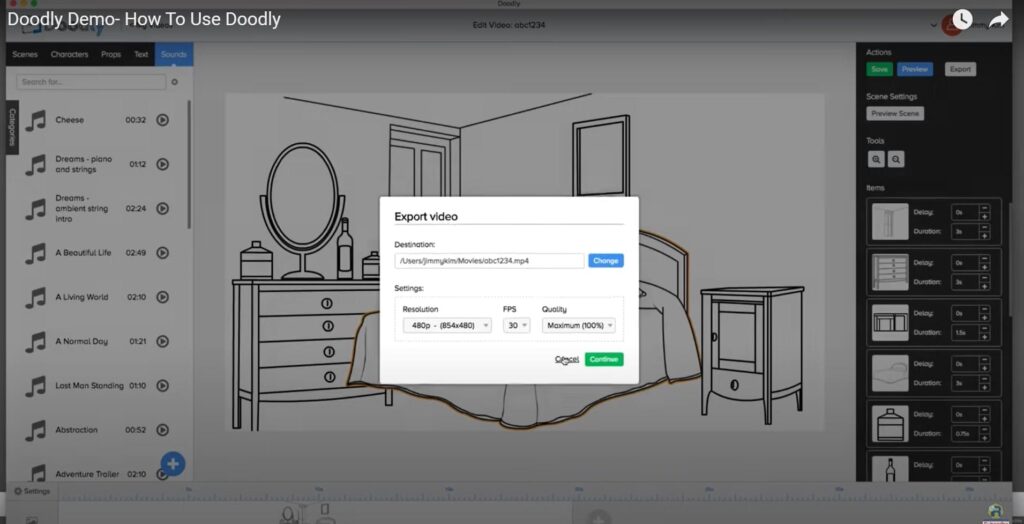 Doodly Review
I know, this blog is related to Doodly Standard vs Enterprise, still, I am sharing some more information about doodly here to let you get a clear picture before purchasing this software. I am reviewing this software by mentioning its Pros & Cons, in a very simple language.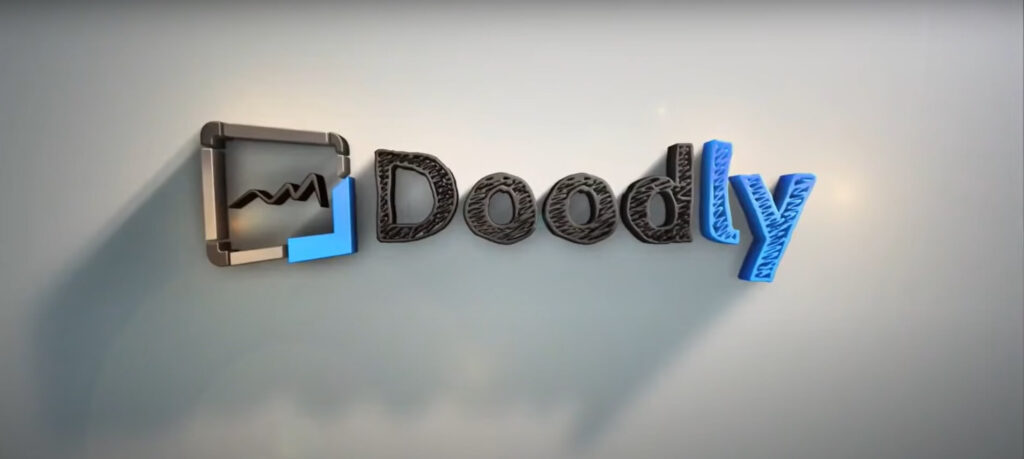 Doodly Review: Pros & Cons
Pros –
Choosing a whiteboard, blackboard or green board is up to you.
You can make Whiteboard Animation Video within 30 minutes with the help this software
You can even upload your own images & sounds to use them in the videos
Cons –
Remember that this software is a desktop application that requires an internet connection.
Similarities between Toonly & Doodly
You can use multiple videos in both
Both provide Premium support
Monthly & yearly plans are available for both software
Both have monthly plans with standard & Enterprise options
Both have yearly plans with standard & Enterprise options
From the review so far, I hope this article would help you to decide which Plan of Doodly (Standard or Enterprise) is worth purchasing.
Doodly Review: FAQ's
What is Doodly Software?

This product is whiteboard animation software. This software supports a Drag & Drop interface which makes it easy to draw sketches. Though there are various types of software available, Doodly sticks out because it is easy to use even by a newcomer.

How good is Doodly? Is Doodly worth it?

It allows you to make high-quality videos without going through any costly learning process. The software is fairly easy to use with the excellent Drag & Drop feature. So yes, it is good, legit & worth it.

Is Doodly free? How to download it for free?

It is legit and an excellent animation maker, so it is making curious to many people if it is free or not. The answer is, it is not free to use but it is worth paying for it. Monthly packages are, the enterprise plan is $69 per month & the standard plan is $39 per month.

What is the difference between Doodly standard and enterprise ?

Please refer the table ( Standard vs Enterprise ) mentioned in this blog

Is Doodly legit?

How does Doodly work?

It is super easy to use. In fact, you can drop & drag previously made images to a canvas or you can make your own, upload them & let this software's smart draw innovative technology doodle it for you.

How much does Doodly Standard and Enterprise plan cost?

Monthly packages are the enterprise plan is $69 per month & the standard plan is $39 per month.

What is Doodly Standard?

There are two pricing options when it comes to animation software – Standard and Enterprise (Pro). Standard Plan costs $20/month when billed annually or $39/ when billed monthly. An Enterprise plan is $40/month when billed annually (yearly) or $69/month when billed per month. There are benefits for both yearly as well as monthly billing plans.

What does doodly standard come with?

The standard plan comes with black & white doodles. You will need to purchase the 'Rainbow Package' if you want a coloured doodle.

Is doodly standard worth having over enterprise (pro) plan?

If you are a beginner or individual then "Standard Plan" is worth having over enterprise plan.

Which board styles Doodly provides?

They provide- Whiteboard, Chalkboard, Greenboard, Glassboard, Custom

How to add fonts to Doodly?

To upload a new font file, explore the "Text" menu of your Dashboard, & hit the blue & white + symbol. When that is finished, click 'Continue' to add the file & the new font will at that point be ready to use inside your account!

How to add music (or voice over) to Doodly?

You can add a custom audio file by clicking on the blue & white + symbol at the Sounds menu of your Dashboard.

Can you use Doodly on ipad? Does Doodly work on ipad?

It only works on Windows & Mac, but not on Apple iPad and Phone.

How to cancel Doodly?

To cancel your account, you will need to email their support team. Toonly is just like a subset of Doodly. They will look after your request on time. You will get a reply with cancellation confirmation from their team to make sure the process is complete, also your account will be closed at the end of your billing cycle. Hence, It is very legit.

Which is better Toonly vs Doodly ?

Toonly is for creating cartoon explainer videos. Toonly is like a 'subset' of Doodly. For more details, compare this blog with Toonly standard vs enterprise (pro) review blog
Create
Simply choose between whiteboard or blackboard
Design
create a video using the 100's of characters, props, images, fonts & sounds or upload your own fonts, images & sounds
Export & Share
Export your videos in multiple formats & quality in a minute
Other Alternatives:
Toonly (Toonly vs Doodly)
DoodleMaker (DoodleMaker vs Doodly)
CreateStudio (CreateStudio vs Doodly)
Conclusion:
In conclusion, both the Standard and Enterprise versions of Doodly are great options for individuals, small businesses, and marketers who want to create professional-looking doodle videos. The Standard version is perfect for those who are just starting out and need the essential features to get started, while the Enterprise version is ideal for businesses and marketers who want to create high-quality, professional videos with advanced features.
It is important to consider your needs and budget when choosing between the two versions. If you are just starting out and need to create simple doodle videos, the Standard version may be all you need. However, if you are a business or marketer who wants to create high-quality, professional videos, the Enterprise version is definitely worth considering.
Doodly Standard vs Enterprise Video Comparison:
If you are a video person, you can watch this video for Doodly Standard vs Enterprise Review.
Thank You for reading this blog reviewed by Digitalseye about Doodly standard vs enterprise (Best versus Best).