I tried to write this blog in such a way that, you will get to know about Toonly's Standard vs Enterprise Plan including more details about Toonly in just 1-2 minutes.
Toonly Standard vs Enterprise are:
| FEATURE | STANDARD | ENTERPRISE |
| --- | --- | --- |
| Character/Character Images | 30 | 82 |
| Character Animation | 17 | 30 |
| Prop Images | 1058 | 2024 |
| Backgrounds | 71 | 139 |
| Premade Scenes | 10 | 20 |
| Scenes/ Scenes Template | 21 | 101 |
| Background Audio/ Music Tracks | 20 | 142 |
| Get New Characters & Images Monthly | No | Yes |
| Monthly Pricing | $39/month | $69/month |
| Yearly Pricing | $20/month | $40/month |
Pricing difference in Toonly Standard vs Enterprise
Monthly and Yearly rate both are a bit different for both standard and enterprise version
-> Monthly Pricing – $39/month for Standard and $69/month for Enterprise plan
-> Yearly Pricing – $20/month for Standard and $40/month for Enterprise plan
Toonly Standard vs Enterprise (In-depth)
There are two plans available in Toonly i.e. Standard and Enterprise. In this section, we will see the comparison of Standard Version and Enterprise Version.
Standard Version
With the standard version of Toonly, you will get 30 characters, 17 characters animation, 1058 prop images for your video. There are 71 different backgrounds for your animation.
You get 10 premade scenes that you can use and add dialogues, images, people, and sound into your video. You will get a 21 scene transition with this version. You can use 20 kinds of background audios, 3 text animations.
With Standard version, you can create unlimited videos, premium support, and use this on multiple devices in one license. With this version, you don't get access to the Toonly club where you can get new characters and props monthly.
If you want to choose standard version, it can cost you $39 per month and if you pay annually it can cost you $20 per month.
Enterprise Version
With the Enterprise version, you can get 82 characters and 30 character animations. You get 2024 prop images that are almost double in numbers than standard. You can get 139 different kinds of backgrounds in this version.
Double premade scenes i.e. 20 in number. You can use 101 scene transitions. You can use 141 background audios and 5 text animations in your video with enterprise version. You can create unlimited videos, get premium support, access to Toonly club, and use this software on multiple devices with a single license. Hence, this plan is worth buying.
If you want to choose enterprise version, it costs you $69 per month on a monthly plan and if you choose to pay annually, it can cost you $40 per month.
I hope, this blog helps you to understand the difference between Standard and Enterprise.
If you want to know more about Toonly, keep scrolling for more information.

Short Review About Toonly
Videos are the best way to explain any of the topics. If you are in video creation, Toonly is the best software to create explanatory videos. This software is better, easy, and effective video creation software. It comes with 2 plans – Standard & Enterprise (Pro).
Toonly provides you an easy way to create simple and easy instruction videos. You can make different types of instructive videos like "how-to" videos to marketing your product and many more.
Its interface is so easy to use that anyone can use it. This can be defined as its major advantage.
Now the question is arises about its working. Let me explain to you how does it work.
Toonly has a drag and drop editor, where you can drag and drop whatever you want to add to the pictures, choose the dialogues and motions you want.
It has a brilliant feature in the form of predefined scenes with different animations that you can create minutes-long videos without heavy lifting. These are so handy for different industries and niches.
There is a predefined mode that you can choose for the advertisement of your product and service to the customer. Only you have to add dialogue in the predefined mode or template.
You can import your sound, pictures, object, images in case you are not satisfied with predefined animations. Toonly provides you unlimited things. But it is limited to animations. That means you cannot add your animations. The creators have locked up the adding animation section, even if you know the coding, still you are not able to add animation.
With the benefits, Toonly has some limitations also. There is no auto-save feature, due to this limitation you have to save your work every time.
Overall, this is a brilliant and useful software for promotion, teaching, and explanation that is fast, easy, and worth buying (both standard and Enterprise version).
Benefits of using Toonly
As we know coding knowledge is a must to make instructional videos. But Toonly provides you the liberty to make videos even without the knowledge of coding.
If you make videos using any other software that needs the knowledge of coding, it would lead you expensive and risky. As you would need to hire a developer who will charge you a high amount of money to create a video, even you don't know whether the video will work for improving the sales.
It would be expensive for you if your goal is not achieved. Other than this you would have limited revisions and customization as you have to depend on the developers and they have their challenges. Most of the time would be wasted on incorporated the changes that you want in your animation.
With software like Toonly, you can make whiteboard animation videos within 30 minutes on your own without any dependency on anyone else with all customization that you want. If your video doesn't match your expectation, you have the option to go back to the drawing board and redesigning it from the scratch.
This software makes your life easy. You can make your videos vibrant with its customization features in colors, dialogues, backgrounds, and many more. It saves your money on freelancing and you can incorporate as many changes as you want without paying extra money. So I must say again, it is worth buying it.
Features of Toonly
Toonly has brilliant features that make it stand different than other software. Let's see its excellent features.
Images
Toonly comes with tons of images. So you have loads of options to choose any kind of image you desire to use in your animation. The images are available in Toonly are not the typical ones that you find on the internet, even they are so beautiful and unique that makes your video outstanding.
Ease of use
One of the incredible features of Toonly is that its easy interface. It is so easy that anyone can learn it easily. To operate this software you don't need to learn or understand coding. There are numerous tutorial videos are available to help you out if you stuck or face any problem while operating it. In these videos, you can find a way to solve your issues and you can start creating the videos.
One time purchase
With a single license, you can use this software on multiple devices. You can install it on your PC, laptop, or other computers without paying extra fees. This is another extraordinary feature of Toonly that makes it different from other software.
Easy Export
With Toonly you can easily export your work to other devices and software. Toonly doesn't have the option of auto-save your work, so you have to save your work manually. It provides you the facility to upload your created videos directly from the software to the website or social media page.
Guarantee
Toonly comes with 30 days money-back guarantee. You can use and check the software for 30 days and decide that the software is working for you or not. If you are not satisfied with the software, you can return it in the given time period and get your money back.
Tutorials
There are numerous tutorials available to guide you about the software including interface, working with characters, objects, adding music, zooming, rotation, and many more. While using the software if you are stuck somewhere or face any issue, you can refer to the tutorials to resolve your challenges.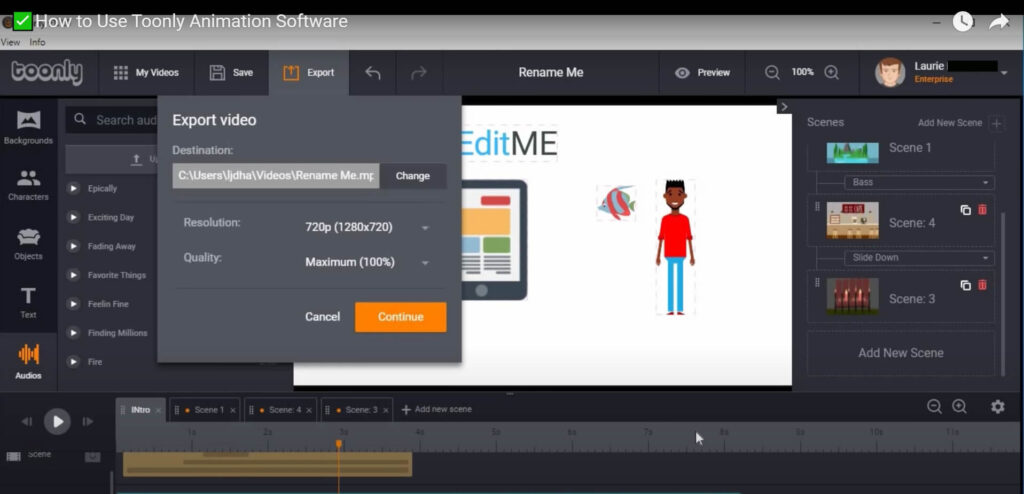 How to use Toonly?
This section is dedicated to seeing how to use Toonly & get the best out of the software. For those who are a beginner in this field and want comfy software that can handle your video's needs, we highly recommend this software.
After the installation of the software, you can start creating your videos. To create your video, first of all you have to select the background of the animation.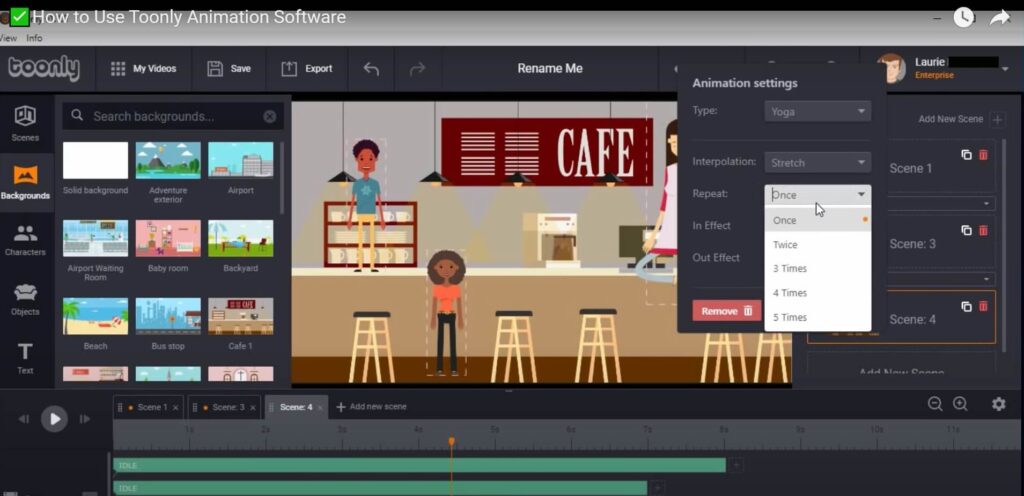 Toonly comes with several different beautiful backgrounds, therefore, it is hard to choose the background for the video. But you can choose it as per your video requirement and customize it.
Once your background is set you can add mages, dialogues, sound, & other requirements of your video. Apart from this, Toonly provides the feature where you can add your voice or voiceover in your animation. After creating your video, check it by playing it & get satisfied.
Once you are satisfied with the video creation, you can export straight from the software to the social media page or your website or insert the link on your website.
Who uses Toonly?
Now, the question is aroused who all can use Toonly? Whosoever is interested in creating animation can use it. This software is useful for business people who want to grow their business. Business people can use it to introduce their product & attract a targeted audience to their business.
It is also useful for digital marketers. Videos are the best way to explain your points of the article or blog. This is the better medium to reach out to the audiences, as most people don't like to read so they can watch your content & get attracted to your product.
Toonly FAQ's
Is Toonly Good?

This software not only gives a lot to its customers but also this software is remarkably easy to use. The cost is somewhat more extreme than I'd like for animated explainer videos making software, yet they offer huge customizations, backgrounds, & animations.

How much does Toonly cost?

Its pricing starts at $39 a month. Packaging & pricing are dependent on the number of animation entities being used that are accessible in its library.

Is Toonly worth it?

Though it is a bit expensive compared to regular animation software, a plethora of customization features & animations make it worth buying. If anyone interested in making explainer videos, not many options are available that are as good as Toonly. Nevertheless, it has some cons.

Toonly is best when it comes to cartoon explainer videos. But if you are looking for creating whiteboard animation videos, Doodly ( Doodly Standard vs Enterprise ) is worth it.

How to use Toonly for free? How to get it for free?

Unfortunately, you can't use or get it for free. They have paid version- Standard & Enterprise. You can enjoy toonly lifetime offer in just $67.

Which one is the best version- Standard or Enterprise?

Standard is mostly used by beginners & Enterprise is mostly used by Professionals.
Other Alternatives:
DoodleMaker (DoodleMaker vs Doodly)
CreateStudio (CreateStudio vs Doodly)
If you are a video person, you can watch this video for Toonly Standard vs Enterprise Review.
If you want to know about, other different useful tools used by experts,
Please visit here -> Free useful tools used by an experts
Hope, you like this article about Toonly Standard vs Enterprise.