Are you unsure which plan to use for yourself and your team? Let us help! This article will explain the main differences between all plans specifically Monday.com Standard vs Pro plan.
What are the differences between Monday.com Standard vs Pro plan?
The Individual plan at Monday.com is limited and is best suited to a solo worker who simply wants a list of their tasks. It is limited to two users. Paid plans allow unlimited users.
Basic and Standard options are limited in functionality and are best suited for a small team of five or fewer people. There are differences between the plans in terms of functionality, the ability to host guests, storage space, and key features. You can see who changed what and when in the activity log for each plan. Individual and Basic plans have a timeline of one week, while Standard plans have a timeline of six months. Pro plan users can view activity logs for up to one year, and Enterprise plan users can view activity logs for up to five years. You can use this feature if you're working with multiple people on your team and want to be able to track changes to old versions.
One of Monday.com's most popular plans is the Standard plan. This tool offers you three different perspectives: a timeline view that tracks time-sensitive tasks, a calendar view that shows upcoming projects visually, and a map view that shows geographical locations. Pro and Enterprise versions also offer graph and chart views, workload features, and the ability to reassign tasks to other team members if anyone is overburdened with tasks.
Automation and integrations are also available in the Standard plan, but they are limited to 250 actions per month. The Pro plan increases that number to 25,000 actions per month. You can integrate monday.com with other software you already use, and you can automate project management, such as alerting managers when tasks are completed. The Pro plan also allows you to create private boards so that you don't have to share every board with everyone.
The following is monday.com's pricing for teams of 3:
Individual: $0, forever free for up to 2 seats
Basic: $24 per month for 3 users
Standard: $29 per month for 3 users
Pro: $48 per month for 3 users
Enterprise: Contact for pricing

If you want to know more about Monday.com Promo code, read this.
Monday.com Standard Plan
Most people choose the Standard Plan. This plan includes all the features of the Basic Plan plus:
Limited guests
The Standard Plan allows you to add three guests for free. Any additional guests will be billed. The team counts four guests as one billed member.
Shareable boards
Shareable Boards are boards that allow you to collaborate with outside users (guests). You can share projects with your outside users without giving them access to your full account.
The Timeline
You can access the timeline feature of the Standard Plan, which is our own version of a Gantt chart.
Advanced filter search
Using Search Everything, you can find anything you want across all of your boards (files, updates, items). A board filter can also be used to filter any information within a board.
The Calendar View
You can visualize all your tasks that have a date and/or timeline column in the calendar view. The calendar view can be customized per day, week, or month. You can also choose which columns to display on your calendar.
The Map View
With the map view, you can view your Location Column and/or Country Column in one single view.
250 Automations/ Integrations
Would you like to automate your processes and eliminate manual steps? Are you interested in integrating Monday.com with other platforms? With the Standard plan, you can integrate Excel, Google Drive, Dropbox, and your calendar on an unlimited basis. Each month, you are allowed 250 Automations and 250 Integrations on the Standard plan.
5 boards per dashboard
The dashboard is a great way to display everything you need in one place.
The 15 available widgets will help members track project progress, budget, estimate colleagues' workloads, and much more! Standard plan users can create as many dashboards and widgets as they wish. However, each dashboard can contain information from five boards.
20 GB Storage
When you have more storage, you'll have more room to save important documents, images, and files.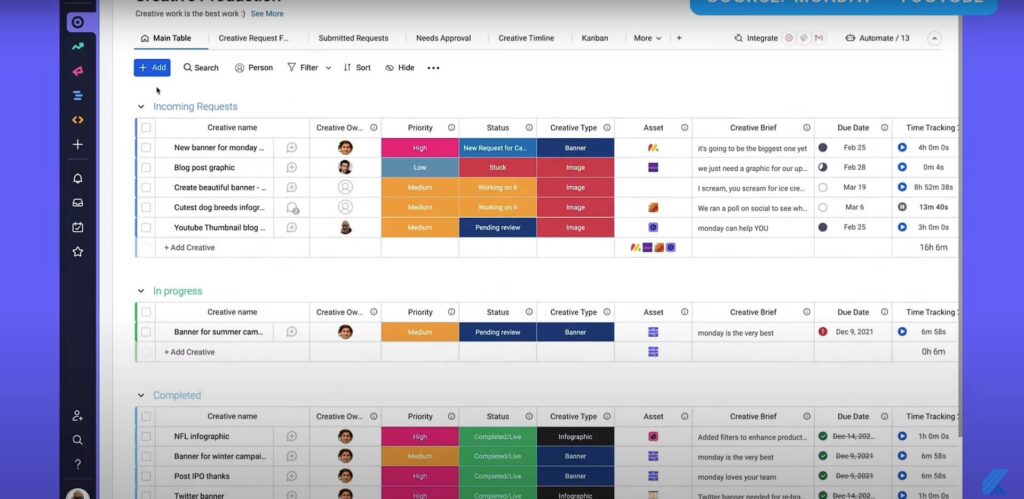 Monday.com Pro Plan
For your trial, you'll use the Pro Plan. Among our plans, this is the most sophisticated. All the features of the Basic and Standard plans are included in this plan as well:
Private boards
Members who create private boards and anyone they invite will be able to see them. A project, to-do list, or plan can be made on this board type before it is executed with your team.
Higher Automations/ Integrations limit
You are allowed 25,000 actions per month for Automations and 25,000 actions for Integrations on the Pro plan.
Advance permission and restriction settings
Permissions and restrictions can be set for both the board and individual columns to control who can see and edit content.
The Workload View
Get an overview of how your team's work is divided by adding the workload view to your board! A quick glance reveals who is over capacity, so you can adjust upcoming tasks accordingly. To keep everyone on track, you can reassign, change, or reassign due dates if needed.
The Chart View
Our views center is available to you for full access. In addition to the amazing chart view, all the views available on Basic and Standard plans are included here.
Full access to the column center
Column center access is included in this plan. In addition to Time Tracking, Formula Columns are included as well!
The Tags Column
Your account can be organized using a consistent keyword by grouping items from different groups or boards.
The Formula Column
Calculations can be made using this column. It can be used for simple mathematical equations as well as for complex formulas and functions.
The Time Tracking Column
Would you like to know how much time you spend on each task? With the time tracking column, you can now keep track of it!
25,000 Automations/ Integrations
You will be allowed 25,000 Automations and 25,000 Integrations per month if you are on the Pro plan.
10 boards per dashboard
You can display what's important in just one place with dashboards. By interacting with so many widgets, members can understand progress on their projects, track budget, and estimate their teammates' workload! As many dashboards and widgets as you want are included in the Pro plan. You can, however, have 10 boards per dashboard.
Google Authentication
By signing in with your Google account, you will be able to access your Monday account. This will save you from having to remember a password every time you access the site.
100 GB Storage
Having more storage means you can store more files, images, and important documents.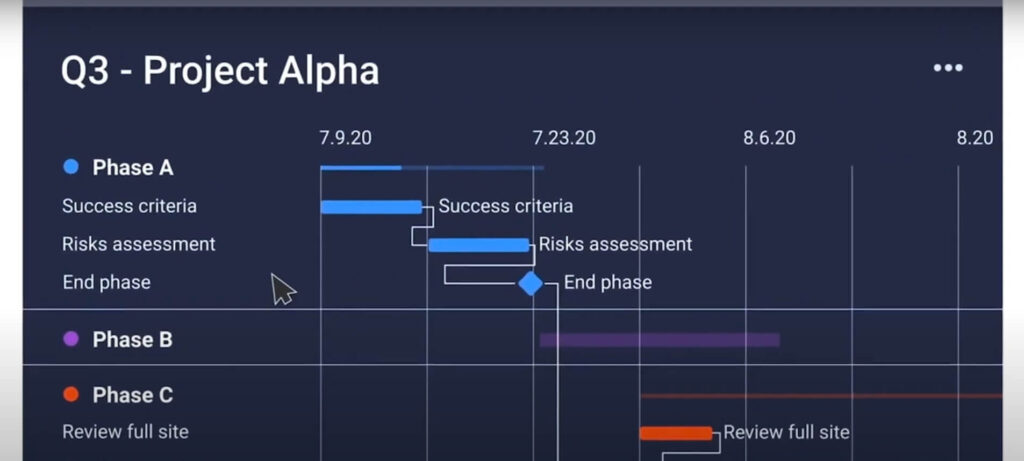 Monday.com Standard vs Pro – FAQs
Does Monday.com have a free version?
Monday.com does not have a free version. You can access Monday.com for 14 days by signing up for our free trial. You do not need to provide a credit card. You have access to all the Pro plan features during the trial period. You will need to purchase a plan if you wish to continue using the platform.
What is the cost of Monday.com?
Pricing starts at $24 per month for 3 users and varies depending on the plan and team size. View our plans to get instant quotes for up to 40 users or to request a quote.
Is it possible to pay for Monday.com monthly?
Absolutely! On the pricing page, you can choose the monthly option and pay on a monthly basis.
Video Comparison – Monday.com Standard vs Pro
Monday Alternatives:
Pipedrive
Activecampaign (Activecampaign Lite vs Plus)
If you want to know the difference between Pipedrive vs Monday vs Activecampaign, read it.