In this blog, I'm going to compare Doodly vs Toonly.
The first thing I'm going to share with you is what I actually recommend for you to use like-
What are the main differences
In what way doodly is better comparing to Toonly
In what way Toonly is better comparing to Doodly
Toonly & Doodly pricing plans
Side by side comparison
So let's just start now
Now first of all, these are three amazing software – Toonly & Doodly. These are software that you can use to make amazing quality videos that really really do well with people.
The main difference between Toonly & Doodly is that Toonly is a let's say explainer cartoon video maker that you can create explanation videos on the other hand Doodly is all about creating what whiteboard animation videos so you can see clearly that you don't see any colours so this is the first difference.
Regardless of your market niche, the Toonly tool offers you a wide catalog of graphic content so that you can create simple explanatory animated videos in a short time .
Backgrounds of different environments, characters of different types and endless objects can be added to the videos to give rise to the creations you need.
Toonly's software is available for Mac and Windows for $39 a month, although they occasionally launch offers to buy the program at once with no monthly fees.
Like Toonly, the Doodly tool allows you to make whiteboard animated videos within 30 minutes for marketing in just a few steps and without advanced technical knowledge.
The particularity of Doodly is that the tool focuses on explanatory videos with drawings and text on a white background , as if you were writing on a blackboard.
It is, therefore, a very attractive option to create informative videos or share curiosities.
Doodly can also be used on Windows or Mac and costs $39, but from time to time it offers special prices for a one-time purchase (Doodly Lifetime Offer Review).
So it depends what kind of industry you're in and also what you prefer do you want to have more like a whiteboard animation software.
Toonly vs Doodly
| Features | Toonly -Standard | Enterprise | Doodly - Standard | Enterprise |
| --- | --- | --- |
| Character/Character Images | 30 | 82 | 1164 | 3959 |
| Prop Images | 1058 | 1620 | 2024 | 3341 |
| Scenes/ Scenes Template | 21 | 101 | 84 | 84 |
| Background Audio/ Music | 20 | 142 | 150 | 250 |
| Get New Characters Monthly | No | Yes | No | Yes |
Doodly is a whiteboard animation software where you can do explanation video tutorials, sales videos and so on and if you want to do more like a cartoon style video which are also very very powerful and very easy to produce within toonly.
If you want to make green board, blackboard, glass-board or any kind of animation style videos which are very very funky then definitely Doodly is the best for you or if you want to make cartoon videos which are also very very attractive and very powerful then go with Toonly.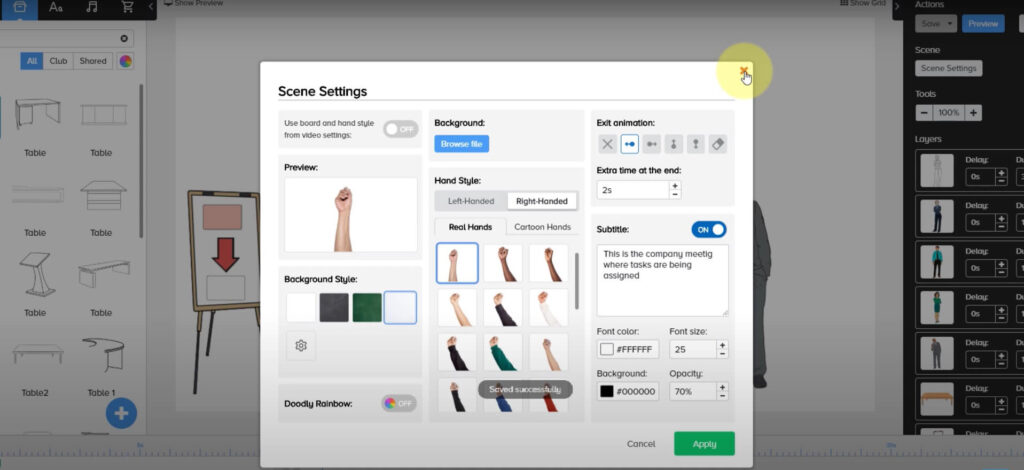 These kinds of videos now whether it is Doodly or Toonly, grab people's attention. It's true people's attention span is like a goldfish especially on youtube, people like watching a video and if they don't like what they see and immediately in two or three seconds they switch on to the next video.
But these kinds of videos whether it's a cartoon or a whiteboard animation they draw the attention of people.
So there's a lot of benefits into using these kinds of software's so whether you want to do a whiteboard animation or whether you want to do a cartoon based video these are amazing software to go for.
The second difference is that in Toonly, you can be can work on offline mode so you don't have to have connections to the internet, on the other hand, Doodly is that you need to have an internet connection to use it.
Another thing is, in Doodly you have plenty of characters and plenty of designs that you can use etc like characters.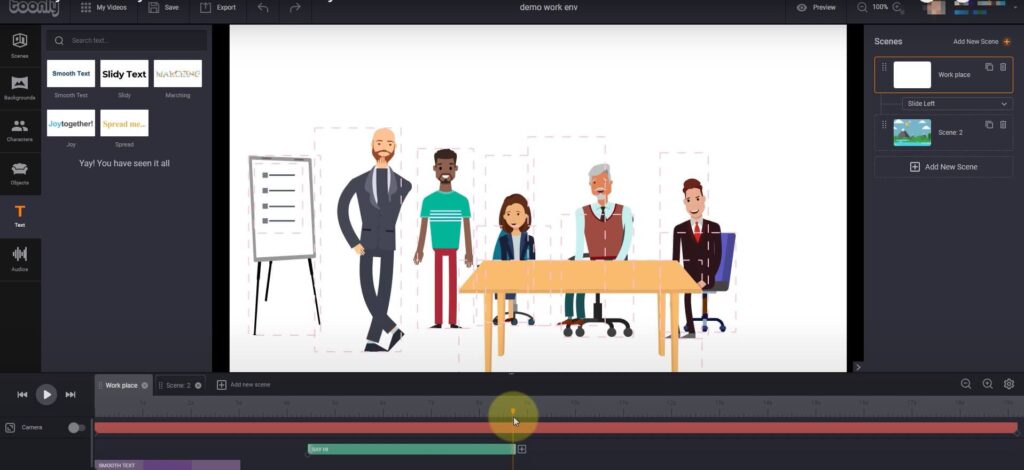 The next thing that is really important is that both Doodly and Toonly are owned by one company and I have a really great recommendation for you. If you want a better price or discount, just visit their website then navigate it for a while and then they will start showing you ads on Facebook with better prices.
Now let's go to the pricing plans when you come here to the Toonly and Doodly they are really similar I could even say the same. So you got 30 characters into only in enterprise you got 82 I own the Toonly standard version you get 30 character animations in Toonly enterprise. In standard, you get 17. everything you get more things in enterprise like okay understandable in doodly on the other hand you see the also Doodly Standard and Doodly Enterprise ( Doodly Pro ) and you get more character images in doodly comparing to toonly so you see right away that it is what it is
Toonly Pros & Cons
Pros:
– Live-action animation
– Tons of templates to choose from
– Easy to use, intuitive UI
– 30 days money-back guarantee

Cons:
– Application start running slow if many users are using the website at the same time
Doodly Pros & Cons
Pros:
– Doodly draw feature for endless resource customization
– Tons of pre-built resources
– Rich background track library
– Real-time voice recording
Cons:
– You have to pay extra money for using "Colour characters"
Advantages of Doodly
It's easy to use
Creating animations is very easy with this software. Even if you are a beginner, you will find it easy to use after a few tries. -> How to use Doodly
Many Doodles
Whether it's a great drawing or not, having a large library of images will certainly make your work easier and more fun, and that's what Doodly offers you.
Custom Image Support
If you can't find the images you want in the library, it's easy to import them from other sources and add them to Doodly.
Effective
With Doodly, doubt can do your job well. The large catalog of images and media is very useful.
This software comes with pretty much everything needed to form a whiteboard animation.
While it may take some time to release the first video, it just gets more accessible from there.
Support
In terms of support, Doodly is one of the best options available.
When visiting the site for the first time, you will not find many videos or FAQs.
However, choosing a particular line of inquiry yields many useful results.
They respond quickly to your emails, questions and are very helpful in general.
Regular Updates
Many alternatives release updates less than three times a year, and some don't even bother to update the software.
Doodly is different. The manufacturer listens to user complaints and the team works hard to send useful updates as quickly as possible.
Updates are free once you have the animation software.
So whether it's on your MAC or Windows computer, you can rest assured that Doodly will receive immediate updates designed to improve your experience.
Disadvantages of Doodly
No Color in Default Plane
You can choose standard or business plan. A disadvantage of the Standard plan is the lack of color images.
If you want color images, you must pay a one-time fee for the add-on.
If you only create black-and-white sketches, this shouldn't be a problem, but if you don't, you might be discouraged by having to pay an additional fee for color images.
No Offline Use
Doodly is only available with an Internet connection. If you are somewhere with bad reception, it can be annoying if you cannot access the software.
Limited Audio Resources
Although Doodly comes with a narration slot, it's pretty basic and can be boring to use.
Hopefully, more updates will bring better features in this regard.
Cost
While it comes with a lot of features, the cost of Doodly can turn anyone off who is just looking to have fun with animated videos.
It's more expensive than many other alternatives.
Slow Export
Exporting videos is a little slow. It may take up to 40 minutes to export an animation of 5 minutes or even longer.
In my opinion, its totally depends on you, which one you want to use and what are your things that you want to do with Toonly and Doodly
So thank you very much for reading this blog.
Other Alternatives:
DoodleMaker (DoodleMaker vs Doodly)
CreateStudio (CreateStudio vs Doodly)
Toonly vs Doodly Video Review:
If you are a video person, you can watch this video for Toonly vs Doodly Review here.
Toonly vs Doodly: FAQ's
What is the difference between Doodly's Version?

What is the difference between Toonly's Version?